STOOLBY Wood Grain Brush
LIVE : people are also looking at this product.

Only products in stock.

Free Shipping
Transform Your Furniture And Walls Into Works Of Art
This tool will be a great ally in creating a vivid wood grain effect that will redefine your wall decoration projects. Whether you want to personalize your walls, wooden furniture, or even fabrics, this kit is the key to bringing to life wood grain patterns inspired by nature right in your own home.
Thanks to the ergonomic non-slip plastic handle, you will have full control to create natural and impressive wood grain effects. Made from soft and durable rubber, this tool is not only sturdy and long-lasting but also offers a realistic simulation of wood grain.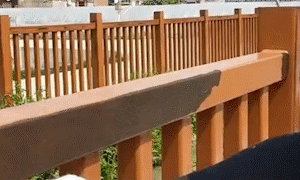 The Natural Beauty Of Wood Patterns
Beauty is in the details. Imagine creating beautiful wood grain patterns that catch the eye and provide a unique character to your walls, window frames, beams, wooden benches, and doors.
With our kit, these surfaces will no longer be just elements of your interior but will become true works of art, adding a unique style and personality to your space.
Easy To Use
The tools in our kit are practical and reusable, easily cleaned with water. Create a perfect wallpaper illusion using this rubber tool that perfectly imitates the texture of wood grain.

Specifications: • Materials: Rubber • Color: Black • Included in the package: Painting Kit (2 sizes: 5.11 in & 3.34 in)